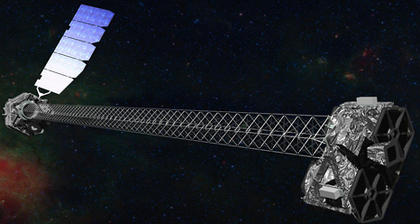 NuSTAR Celebrates Two Years of Science in Space
07.31.14 – NASA's Nuclear Spectroscopic Telescope Array, or NuSTAR, a premier black-hole hunter among other talents, has finished up its two-year prime mission, and will be moving onto its next phase, a two-year extension.
"It's hard to believe it's been two years since NuSTAR launched," said Fiona Harrison, the mission's principal investigator at the California Institute of Technology in Pasadena. "We achieved all the mission science objectives and made some amazing discoveries I never would have predicted two years ago."
Explorers News Continues
Explorers 4 New Missions
NASA Selects Explorer Projects To Probe Earth's Upper Atmosphere
News Release 04.12.13 – NASA has selected a new satellite mission and a new space-based instrument to begin development as part of the agency's Heliophysics Explorer Program.
>> Find more on ICON
NASA Selects Explorer Investigations for Formulation
News Release 04.05.13 – NASA's Astrophysics Explorer Program has selected two missions for launch in 2017: a planet-hunting satellite and an International Space Station instrument to observe X-rays from stars.
NASA Taps the Power of Zombie Stars in Two-in-One Instrument 04.05.13 – NICER will not only reveal why neutron stars are the densest objects in nature, but also demonstrate navigation technology that could revolutionize…
>> Find more on NICER