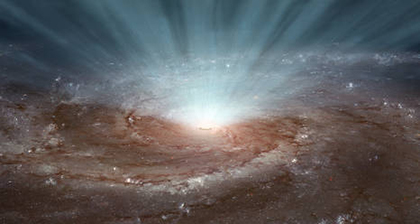 NASA, ESA Telescopes Give Shape to Furious Black Hole Winds
02.19.15 – NASA's Nuclear Spectroscopic Telescope Array (NuSTAR) and ESA's (European Space Agency) XMM-Newton telescope are showing that fierce winds from a supermassive black hole blow outward in all directions — a phenomenon that had been suspected, but difficult to prove until now.
This discovery has given astronomers their first opportunity to measure the strength of these ultra-fast winds and prove they are powerful enough to inhibit the host galaxy's ability to make new stars.
Explorers News Continues
Explorers 4 New Missions
NASA Selects Explorer Projects To Probe Earth's Upper Atmosphere
News Release 04.12.13 – NASA has selected a new satellite mission and a new space-based instrument to begin development as part of the agency's Heliophysics Explorer Program.
>> Find more on ICON
NASA Selects Explorer Investigations for Formulation
News Release 04.05.13 – NASA's Astrophysics Explorer Program has selected two missions for launch in 2017: a planet-hunting satellite and an International Space Station instrument to observe X-rays from stars.
NASA Taps the Power of Zombie Stars in Two-in-One Instrument 04.05.13 – NICER will not only reveal why neutron stars are the densest objects in nature, but also demonstrate navigation technology that could revolutionize…
>> Find more on NICER